CASE20230825_043
A Challenging Case Report: Bleeding From Right Common Carotid Artery
By Pavel Somov
Presenter
Pavel Somov
Authors
Pavel Somov1
Affiliation
CCH S.S.Yudina, Russian Federation1,
CASE20230825_043
Complication Management - Complication Management
A Challenging Case Report: Bleeding From Right Common Carotid Artery
Pavel Somov1
CCH S.S.Yudina, Russian Federation1,
Clinical Information
Relevant Clinical History and Physical Exam
An 80-year-old patient with aclosed craniocerebral injury was taken to the clinic. The patient underwent CT- revealed subdural hematoma. In the intensive care unit, the patient tried toinstall a central catheter into the right jugular vein, but failed. Successfullyinstalled in the left jugular vein. After 3 days, the patient has a drop inhemoglobin level from 100 to 65 units and hemoptysis appeared.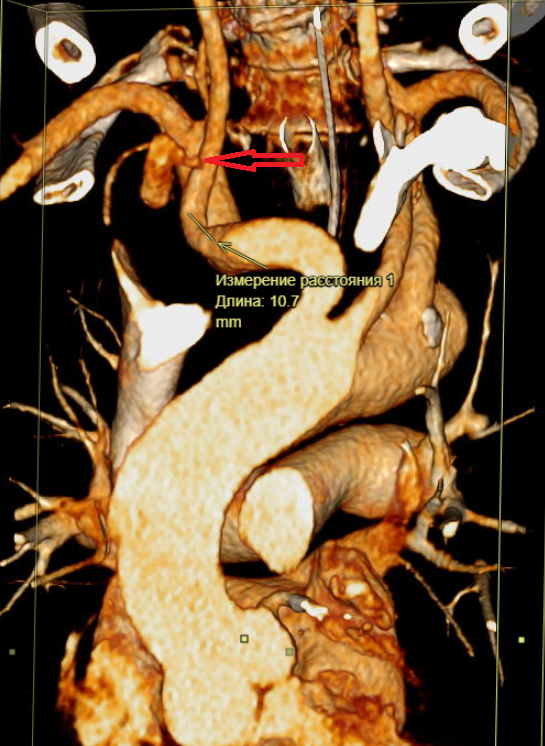 Relevant Test Results Prior to Catheterization
CT angiography revealed two perforations in the common carotid artery that communicate with the right jugular vein, as well as a hematoma that squeezes the trachea to the left

1.avi

2.avi
Relevant Catheterization Findings
Angiography of the right common carotid artery was performed by righttransradial access using a Sim1 catheter, which confirmed perforation

3.avi

4.avi
Interventional Management
Procedural Step
It was great challenge to engede right common carotid artery via femoral approach. So we use externalization technique. Via right radial approach we deliver 0.035 wire in right femoral 9fr introducer. Then deliver SIM2 catheter in right external carodit artety and put 0.035 Amplatz super stiff wire. The via femoral 9fr introducer deliver Cavera Plus stent-graft 10x60mm in right common carotid artery. Via radial approach with SIM1 catheret we engaded carotid artery control stent-graft implantation. Control angio showed - thet perforation is closed. We have good result.

5.avi

6.avi

7.avi
Case Summary
Punctureof large vessels should be carried out by ultrasound control.
Prolongedbleeding from the common carotid artery is a fatal complication.
Stent graftimplantation is a possible option for fixing perforation of the common carotidartery.