CASE20230825_041
Successful Left Main Coronary Artery Stenting in Very High-Risk Non-st Segment Elevation Myocardial Infarction
By Sandi Sinurat, Markz Sinurat, Daniel Parningotan Tobing
Presenter
Sandi Sinurat
Authors
Sandi Sinurat1, Markz Sinurat2, Daniel Parningotan Tobing3
Affiliation
Eka Hospital Cibubur, Indonesia1, Korea University - Guro Hospital, Indonesia2, National Cardiovascular Center Harapan Kita, Indonesia3,
CASE20230825_041
High-Risk Intervention - High-Risk Intervention (Diagetes, Heart Failure, Renal Failure, Shock, etc)
Successful Left Main Coronary Artery Stenting in Very High-Risk Non-st Segment Elevation Myocardial Infarction
Sandi Sinurat1, Markz Sinurat2, Daniel Parningotan Tobing3
Eka Hospital Cibubur, Indonesia1, Korea University - Guro Hospital, Indonesia2, National Cardiovascular Center Harapan Kita, Indonesia3,
Clinical Information
Relevant Clinical History and Physical Exam
Relevant Test Results Prior to Catheterization
Chest X-Ray: Bilateral Infiltrate: pulmonary edema dd/ pneumonia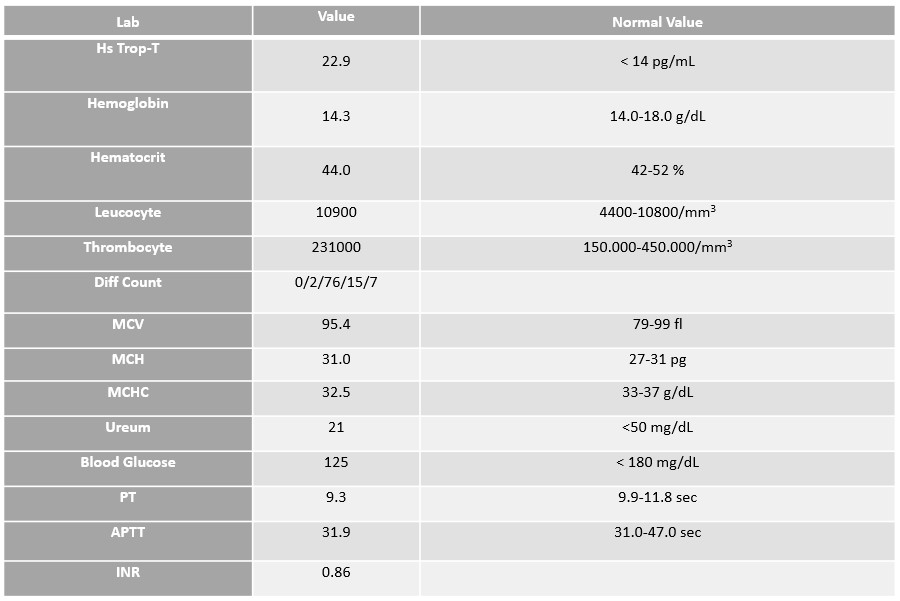 Relevant Catheterization Findings
Left main : Total OcclusionLAD : 90% ostial, diffuse stenosis proximal-mid 60-70% (after POBA)LCx : 70% ostial, multiple stenosis proximal 80%, distal 90%RCA : Dominant, large vessel, 60% stenosis RPL and RPDA, visible Rentrop grade 2 collateral to LAD

Diagnostic LM pre.wmv

LM post POBA pre PCI.wmv

Diagnostic RCA.wmv
Interventional Management
Procedural Step
Diagnostic coronary angiographyshowed total occlusion of left main (LM) coronary artery, diffuse significantstenosis of ostial-mid left anterior descending (LAD), significant stenosisostial, multiple stenosis in proximal-distal left circumflex artery (LCx),intermediate stenosis in distal right coronary artery (RCA). We observed Rentropgrade 2 collateral from distal RCA into LAD. We decided to perform angioplasty usingXB 3.5/6Fr guiding catheter. Run-through wire to intermediate vessel. We wiredLM-LAD lesion with Sion Blue, and after several times we can cross the lesionand deliver the wire to distal LAD. We did the pre-dilatation of LM-LAD withEverest 2.0/10mm and escalated to 2.5/15mm until 14atm. Lesion opened withvisible 80-90% stenosis of LM, visible thrombus. We decided to do directstenting with Coroflex Isar Neo 3.0/32mm in distal LM-proximal LAD. Post-dilatationusing NC Force 3.5/10mm until 16atm was delivered, resulting in TIMI 3 Flow andno thrombus. After several minutes, He developed unstable hemodynamic withhypotension and ventricular tachycardia. We cardioverted him, escalated thevasopressor and inotropic and decided to re-evaluate the coronary vessel.Angiography evaluation showed re-thrombosis in intraluminal stent. Re-wiring todistal LAD and manual defragmentation of thrombus using NC Force 3.5/10mm wasdone successfully. Final angiography showed TIMI 3 flow with no thrombus. Hemodynamicwas improved, monitor showed sinus rhythm.

post rewiring thrombus final angio.wmv

Post PCI LM-LAD.wmv

Post POBA LM-LAD.wmv
Case Summary
The challenge of left maincoronary artery stenting encapsulates the intricate nature of interventionalcardiology. Navigating anatomical complexities, procedural nuances, andpatient-specific factors presents a formidable task. This case reportunderscores the urgent need for rapid and precise interventions when facingcomplex and life-threatening scenarios. Immediate resuscitation, seamlessteamwork, and advanced and experienced intervention cardiologist and techniquesled to the restoration of blood flow, ultimately reviving cardiac function.