CASE20230823_011
Tri-registration Zero Contrast PCI With Mechanical Circulatory Support
By Cheuk Hang Tsang
Presenter
Ivan Tsang
Authors
Cheuk Hang Tsang1
Affiliation
Princess Margaret Hospital, Hong Kong, China1,
CASE20230823_011
High-Risk Intervention - High-Risk Intervention (Diagetes, Heart Failure, Renal Failure, Shock, etc)
Tri-registration Zero Contrast PCI With Mechanical Circulatory Support
Cheuk Hang Tsang1
Princess Margaret Hospital, Hong Kong, China1,
Clinical Information
Relevant Clinical History and Physical Exam
The patient was a 73 years old gentleman with history of hypertension, diabetes, intracranial haemorrhage, thyroiditis, recurrent myocardial infarction and chronic renal impairment due to diabetic nephropathy.
His baseline renal function was impaired with eGFR less than 20ml/min.
In this episode, he was admitted to our hospital for chest pain. He was managed as another episode of acute coronary syndrome and treated with DAPT and low molecular weight heparin.
Relevant Test Results Prior to Catheterization
Blood test showed derranged renal function with eGFR around 15ml/min; the serum troponin I was also elevated
ECHO:impaired LV systolic function, LVEF 27%dilated LVAnterior wall akineticmoderate degree of functional MRmild TR
Relevant Catheterization Findings
Coroangiogram findings:Left main normalproximal LAD - CTOmid LCx 90% stenosismid RCA 80% stenosis

RAO caudal.avi

RCA.avi

Spider.avi
Interventional Management
Procedural Step
Patient refused CABG and hence we proceeded to multi-vessels PCIWe decided to perform PCI to the RCA first, and in view of significant renal impairment, our approach was functional / IVUS guided zero or minimal contrast PCI
Impella CP was inserted via R femoral artery for mechanical circulatory supportRCA was engaged with 7Fr JR4 with guide extensionSyncVision by Philips was used to measure the iFR and IVUS of RCA and co-register with the angiographic findingsthe lowest iFR of RCA was 0.77 (FFR was not done in view of poor LV with low baseline blood pressure)2 stents were implanted in RCA guided by the IVUS measurement without injection of dyePost stenting iFR was 1.0angiogram was done at the end of procedure with injection of 4ml of contrast (medico-legal reason, to confirm no perforation and document that PCI was performed)Impella CP was removed on table with stable haemodynamics
PCI to the LCx was later performed with implantation of 1 DES also guided by SyncVision and minimal contrast
PCI to LAD CTO was not performed in view of the non-viable myocardium as shown on the ECHO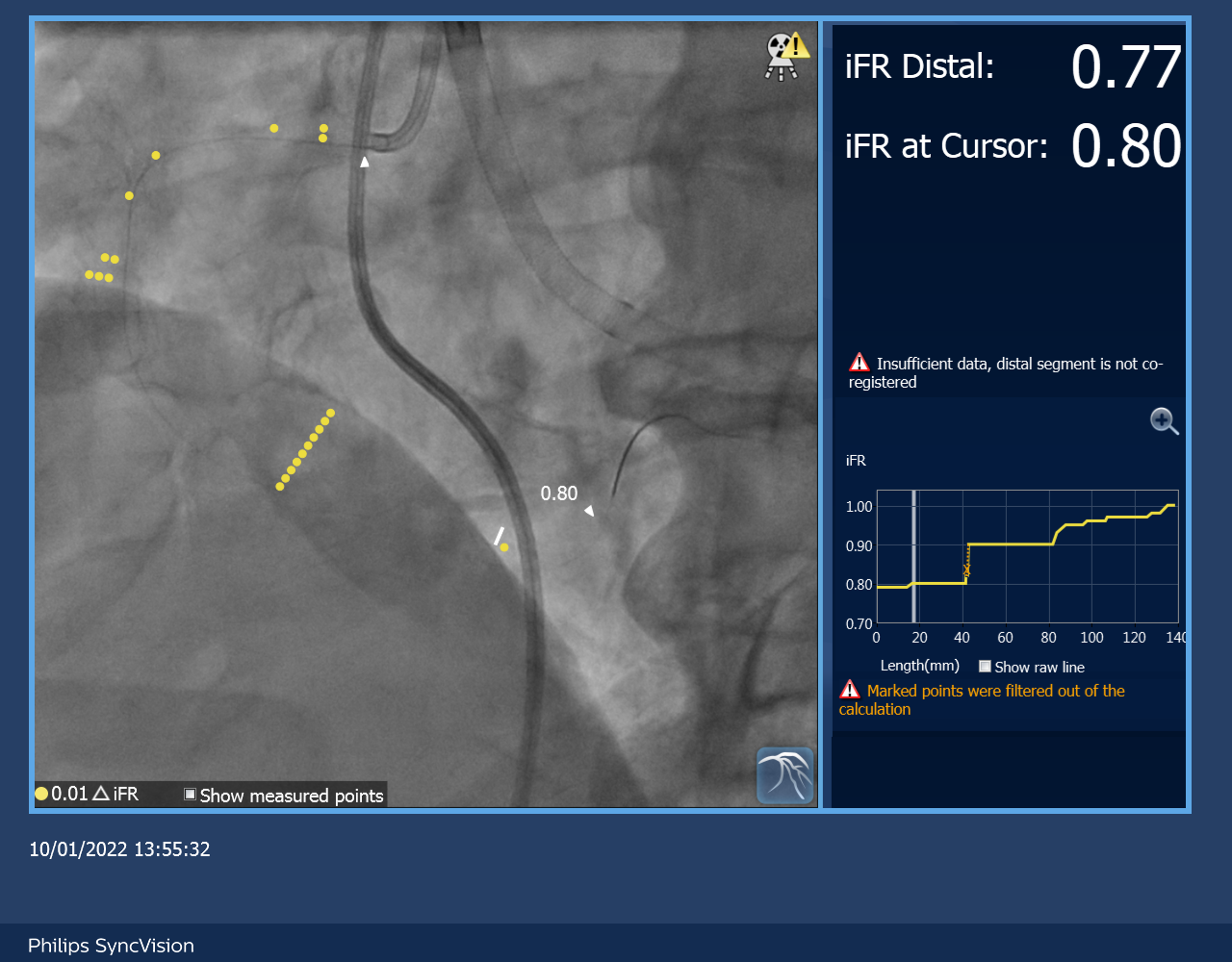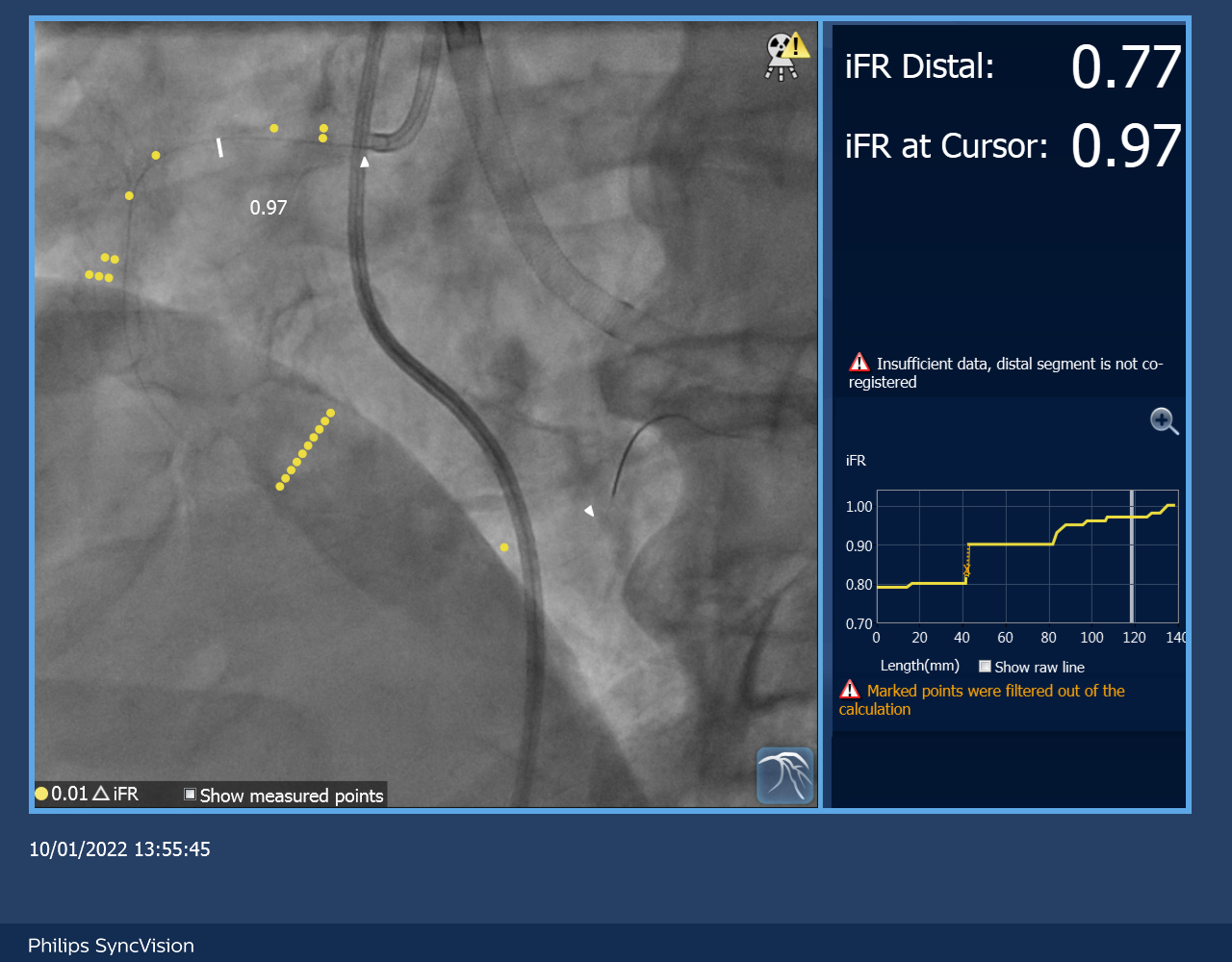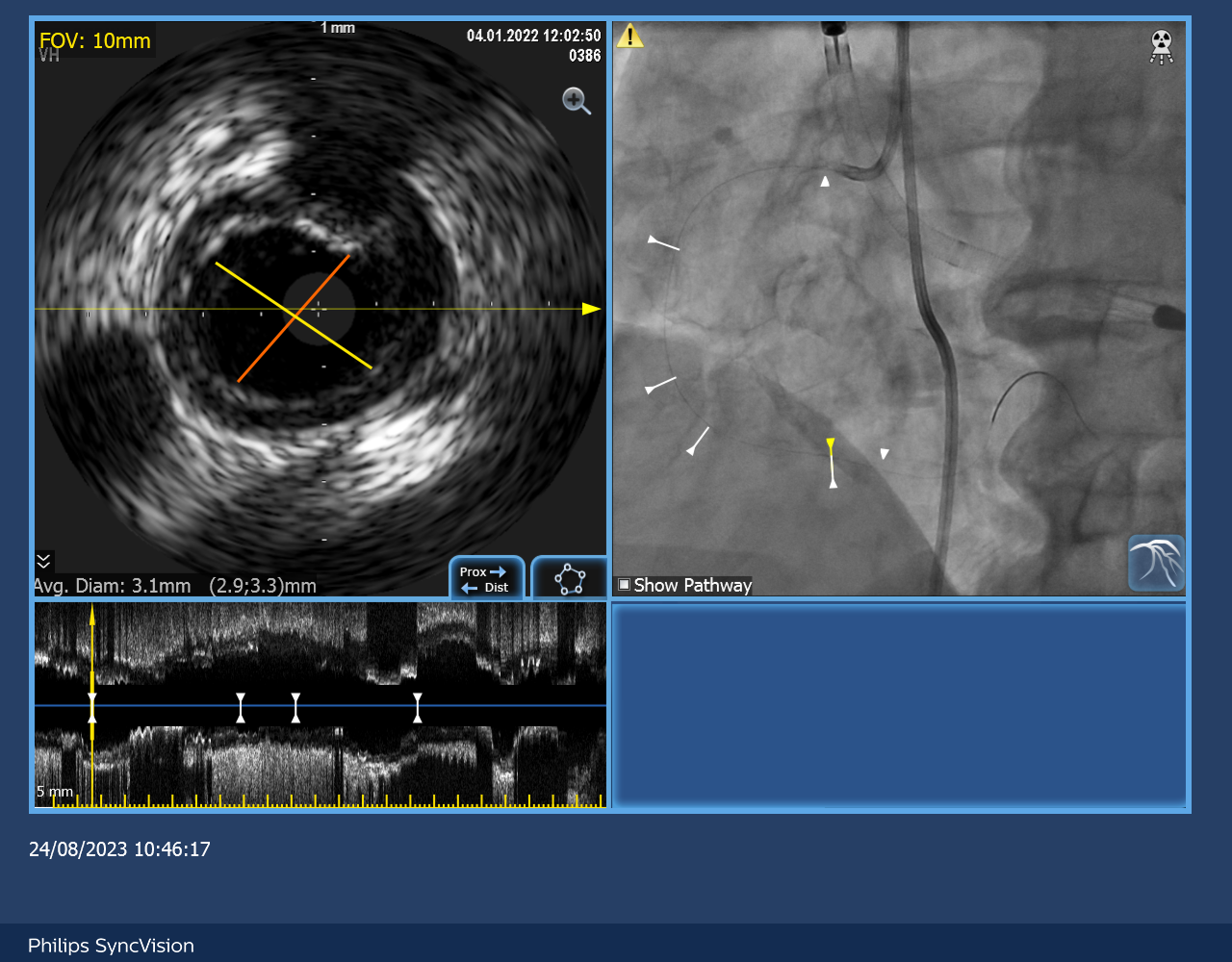 Case Summary
Our patient developed cardiac arrest about 1 week after the second PCI due to VT which was successfully resuscitated. Implantable cardioverter-defibrillator was implanted for secondary prevention of ventricular arrhythmia. There was no neurological deficit after the episode of cardiac arrest. Heart failure medications including entresto and beta blocker were titrated. A course of rehabillation exercise was given to the patient and he was eventually discharged from the hospital after 1 month. He was last seen in the out patient clinic few weeks ago with satisfactory functional status, no ICD shock so far and free from heart failure symptom.