CASE20230823_003
A Challenging Case Report: How Shockwave Therapy Made a Difference in Calcified Coronary Intervention
By Khor Leet Ming, Datuk Kumara Gurupparan, Mugilan Sundarajoo
Presenter
Khor Leet Ming
Authors
Khor Leet Ming1, Datuk Kumara Gurupparan2, Mugilan Sundarajoo3
Affiliation
Hospital Pulau Pinang, Malaysia1, National Heart Institute, Malaysia2, National Heart Institute Ijn, Malaysia3,
CASE20230823_003
Complex PCI - Calcified Lesion
A Challenging Case Report: How Shockwave Therapy Made a Difference in Calcified Coronary Intervention
Khor Leet Ming1, Datuk Kumara Gurupparan2, Mugilan Sundarajoo3
Hospital Pulau Pinang, Malaysia1, National Heart Institute, Malaysia2, National Heart Institute Ijn, Malaysia3,
Clinical Information
Relevant Clinical History and Physical Exam
58 year old lady, underlying diabetes mellitus, hypertension and coronary bypass graft surgery more than 10 years ago, had chronic stable angina for 4 months. Recently, she was admitted for NSTEMI and referred for inpatient coronary angiogram. Examination is unremarkable. Proceeded with inpatient graft study which showed severe stenosis of mid-SVG diagonal which was subsequently stented with DES Xience Sierra 3.0X18mm. She underwent staged PCI to RCA 2 weeks after PCI to SVG diagonal.

ros8.mpg

ros10.mpg

ros13.mpg
Relevant Test Results Prior to Catheterization
Serial ECG: showed sinus rhythm and no ST changes.Serial troponins: slightly elevated (32,16,14) but reducing trendHbA1c 7.2% Cholesterol 3.2 LDL 1.4 Hb 12.8 Creatinine 68Echocardiogram showed preserved ejection fraction 62% with normal valves and inpatient CT coronary angiogram with graft study showed severe three vessel disease with severe stenosis in mid-SVG to diagonal, occluded SVG to OM and occluded LIMA to LAD.

ros1.mpg

ros2.mpg

ros1a.mpg
Relevant Catheterization Findings
Coronary angiogram and graft study showed severe focal stenosis of mid-segment SVG diagonal, severe calcified stenosis of proximal to mid-RCA, RPLV occluded (dominant right, No SVG RPDA), LM mild disease, severe LAD and LCx diffuse disease, LIMA to LAD small, degenerated.Stented mid-SVG diagonal with DES Xience Sierra 3.0X18mm.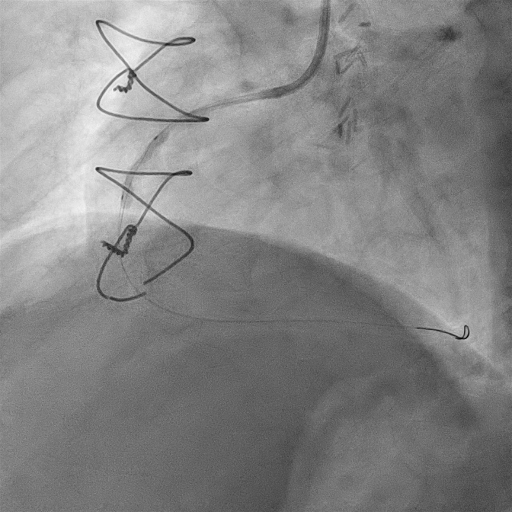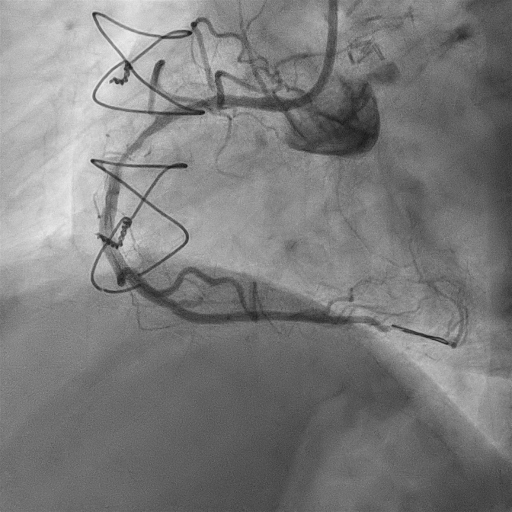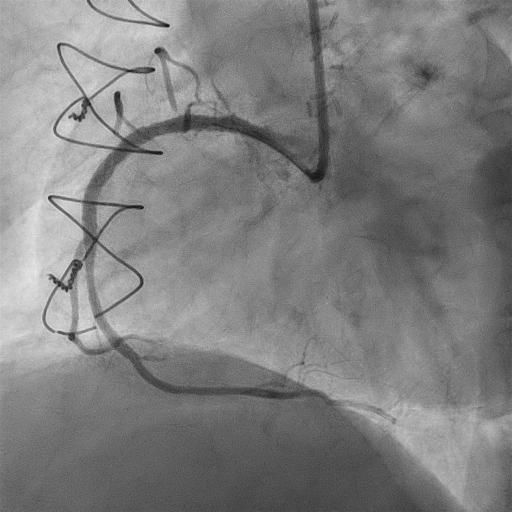 Interventional Management
Procedural Step
Staged PCI to RCA was done 2 weeks after PCI to SVG diagonal.By right radial approach, 6Fr JR3.5 catheter to RCA with addition of Guideplus extension catheter for backup support.Runthrough floppy wire to RCA then RPDA.Predilated proximal to mid-RCA with Wedge NC 2.5X15mm, NC Trek 2.5X8mm and Scoreflex NC 2.5X15mm, difficulty passing balloon into midRCA (had to use leopard crawl technique and deep guide extension for delivery).Unable to open up mid-RCA fully despite high pressure scoring.Proceeded with Shockwave lithotripsy with 2.5X15mm balloon for 8 cycles of 10 pulses each.Predilated again with Scoreflex NC 2.5X15mm, able to predilate mid-RCA fully.Stented proximal and mid-RCA till ostial RCA with DES Xience Xpedition 3.0X48mm.Postdilated RCA stent with Apollo NC 3.0X20mm and Sapphire NC 3.5X15mm at high pressure.Good final result with good stent expansion and TIMI 3 flow in RCA distally.

ros6a.mpg

ros8a.mpg

ros13a.mpg
Case Summary
Use of guide extension catheter for backup support can facilitate difficult balloon and stent delivery in calcified or tortuous coronary arteries.
Need for calcium modification therapies in calcified coronary artery disease if unable to achieve adequate predilatation despite high pressure scoring or cutting balloons to ensure good stent expansion.
Intravascular lithotripsy (IVL) is a good choice of calcium modification therapy which targets both superficial and deep calcium.
Graft intervention is indicated in isolated graft stenosis.
Native coronary intervention may be needed in occluded grafts.