CASE20230816_002
Relentless Pursuit
By Kogulakrishnan Kaniappan, Kumara Gurupparan Ganesan
Presenter
Kogulakrishnan Kaniappan
Authors
Kogulakrishnan Kaniappan1, Kumara Gurupparan Ganesan1
Affiliation
National Heart Institute, Malaysia1,
CASE20230816_002
Vascular Access and Closure - Vascular Access and Closure
Relentless Pursuit
Kogulakrishnan Kaniappan1, Kumara Gurupparan Ganesan1
National Heart Institute, Malaysia1,
Clinical Information
Relevant Clinical History and Physical Exam
68 years old FemaleBackground :1. ESRF on regular HD – 1,3,5 ; blocked right BCF , using Left BCF2. Hypertension3. Diabetes Mellitus4. Dyslipidemia5. Obesity , BMI 32Admitted in a district hospital for NSTEMI in failure 1/12 agoReferred to us for CAG / PCI Examination :Comfortable, mild pallorAfebrileBP - 135 / 70HR - 72CVS - DRNMLungs – clearPA – soft, abdomenMild pedal edema
ECG in ED : Sinus rhythm, LAD, no ST elevation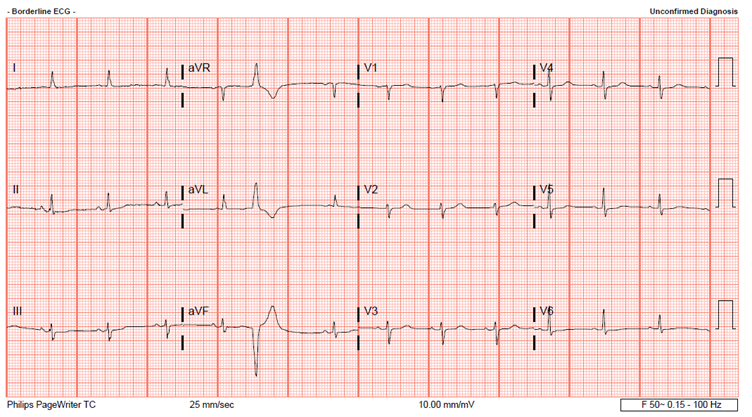 Relevant Test Results Prior to Catheterization
Investigations :
FBC : WCC 9.5 / Hb 11.4 / PLt 302RP : Urea 15 / Na 139 / K 5.6 / Creat677LFT : Bili 7 / ALT 60 / ALP 166Troponin T : 754NT proBNP : 14 680 CRP : 6.9 INR : 1.1
Echocardiography :
LVEF 35%Grade 3 diastolic dysfunctionTAPSE 1.8cmLA dilatedGrade 3 diastolic dysfunctionNo LV clotNo pericardial effusion
Relevant Catheterization Findings
Right femoral approach ; single puncture under fluoroscopy / USG guided 6F sheath / JL 4.0 , JR 3.5Findings :LMS : mild distal diseaseLAD : severe proximaldiseaseLCX : mild moderate ostialand proximal diseaseRCA : severe stenosis atproximal segment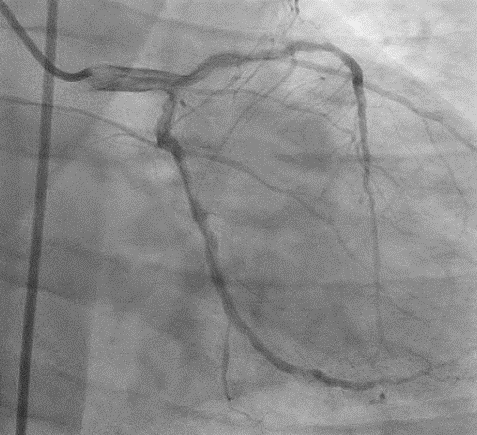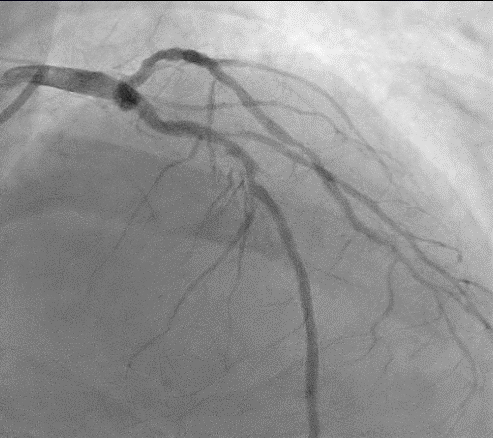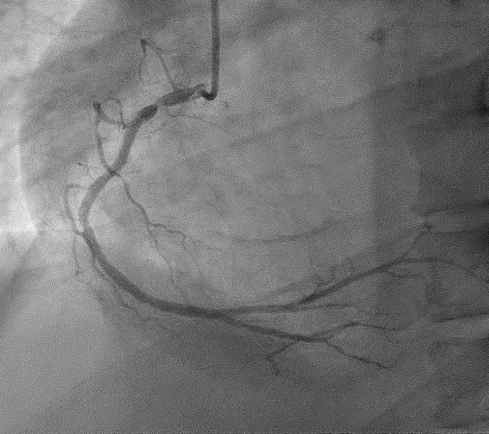 Interventional Management
Procedural Step
QFR LAD prePCI showed ischemia at
0.74.
Decided forPCI to LAD.RFA/EBU 3.5 6Fr.Predilatedwith SC 2.5x15, Scoring 2.75x15mm.STENTED with
DES 2.75x26mm
.Postdilatedwith NC 2.75x15mm at high pressure.RepeatQFRof LAD post PCI improved to
0.92
.Proceededwith PCI to RCA. RFA punctured under fluoro and USG.Femoral shot was taken first.JR3.5,6F enganged RCA.Wired RCA with Runthroughfloppy wire.Predilated proximalRCA with Scoring balloon 2.5x15mm and 3.0x15mm.Floating wire technique withdecision to stent near ostium.STENTED with DES 3.5x18mm..Postdilated with NC3.75x12mm at 18 am.Femoralshot post procedure taken.Patient stable in recovery. 40 minutes later,noted BPlowish at 70/40mmHg with HR 130bpm.Patient was restless.Urgent resuscitation donewith fluid and inotropes.Rushed to Cath Lab for restudy.Contralateral femoralpuncture done and restudy RFA.Identified contrast leak over puncture siteconfirming presence of perforation.Wiredinto contra lateral CFA into SFA using Terumo wire.Balloontamponade done with Admiral Extreme 7.0mm x20mm x130cm and Admiral Extreme8.0mm x40mm ; still unsuccessful.Atthis point,2nd inotropic support and 1 pint packed cell transfusion ongoing.Urgentlydeployed Covered STENT 7.0 mmx38mm120 mmat the site of leak.Postdilated with ADMIRAL Extreme 8.0mm x 40mm x80cm and ADMIRAL Extreme 9.0mm x 40mm x 80cm Finally secured the perforationsuccessfully.CTAnext day showed no extravasation.Patient discharged well after 4 days.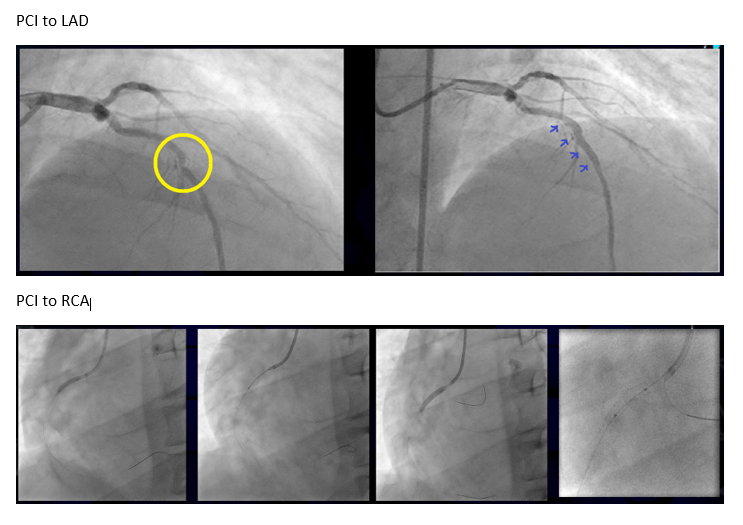 rfa perforation.avi

final results post covered stent.avi
Case Summary
This case highlights few salients points 1. Femoral access complication can occurs despite precaution taken with puncture done under flouroscopy and ultrasound guided2. Patient developed access complication despite initial femoral shot did not show any signs of extravasation3. It is critical for clinician to have high index of suspicion in high risk groups, especially in females, ESRF, calcified vessel, poor vessel wall compliance, advanced age, larger sheath, peripheral artery disease 4. The importance of emergency PTA and covered stent placement in time sensitive manner was crucial to save this patient's life