CASE20220818_002
Coronary Intervention of Anomalous Origin Coronary Arteries Through Left Distal Radial
By Ayman Azoz
Presenter
Ayman azoz
Authors
Ayman Azoz1
Affiliation
Armed Forces Hospitals Southern Region, Saudi Arabia1
Vascular Access (transradial) - Vascular Access
Coronary Intervention of Anomalous Origin Coronary Arteries Through Left Distal Radial
Ayman Azoz1
Armed Forces Hospitals Southern Region, Saudi Arabia1
Clinical Information
Patient initials or Identifier Number
3580017980
Relevant Clinical History and Physical Exam
61 Years old male patient well known to have HTN; DM; IHD with history of previous PCI to LM– LCX and LAD two years ago and history of PCI to ISR of LAD six months ago. The patient presented to us by typical chest pain (ACS unstable angina) and admitted for coronary angiography.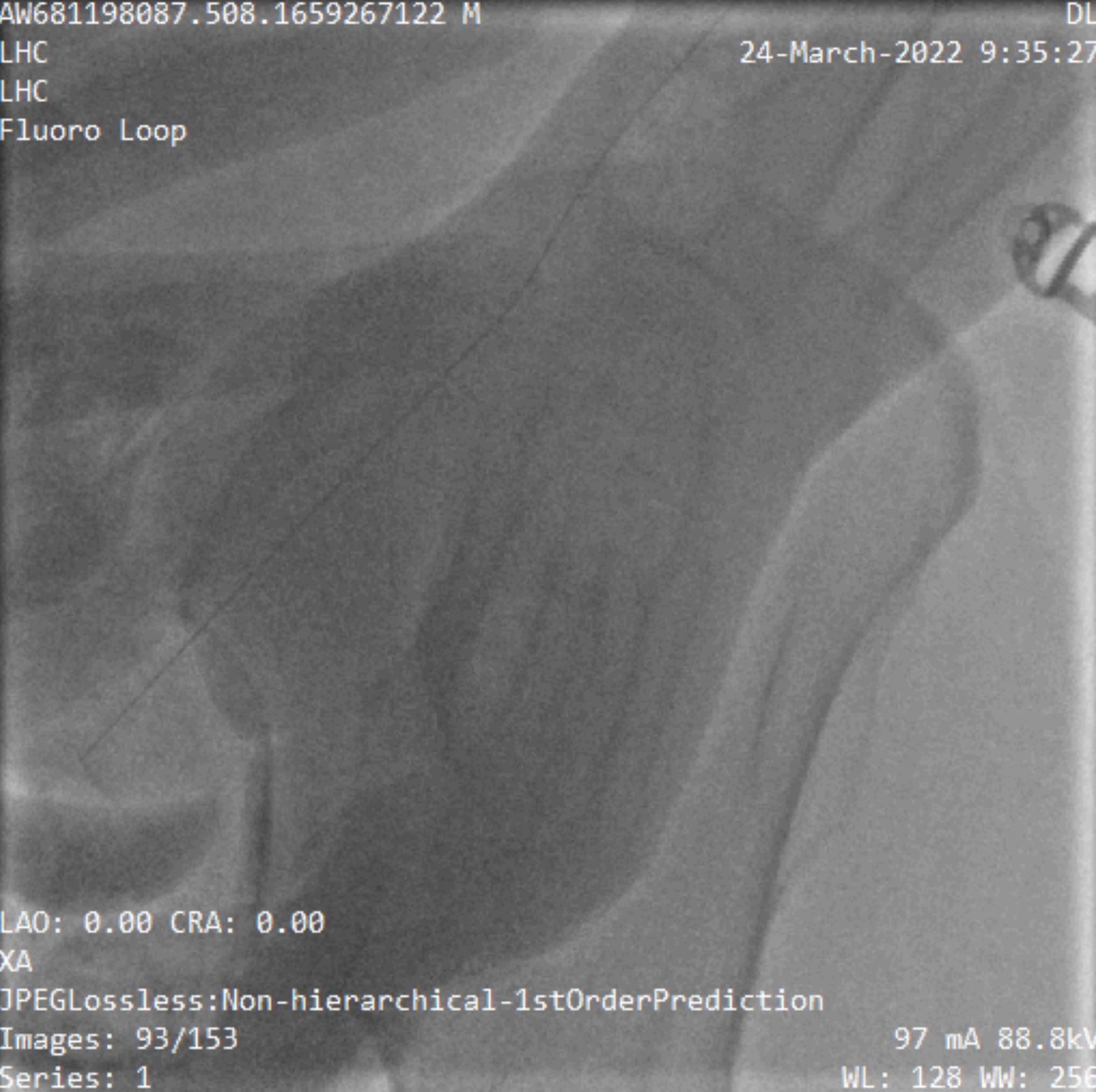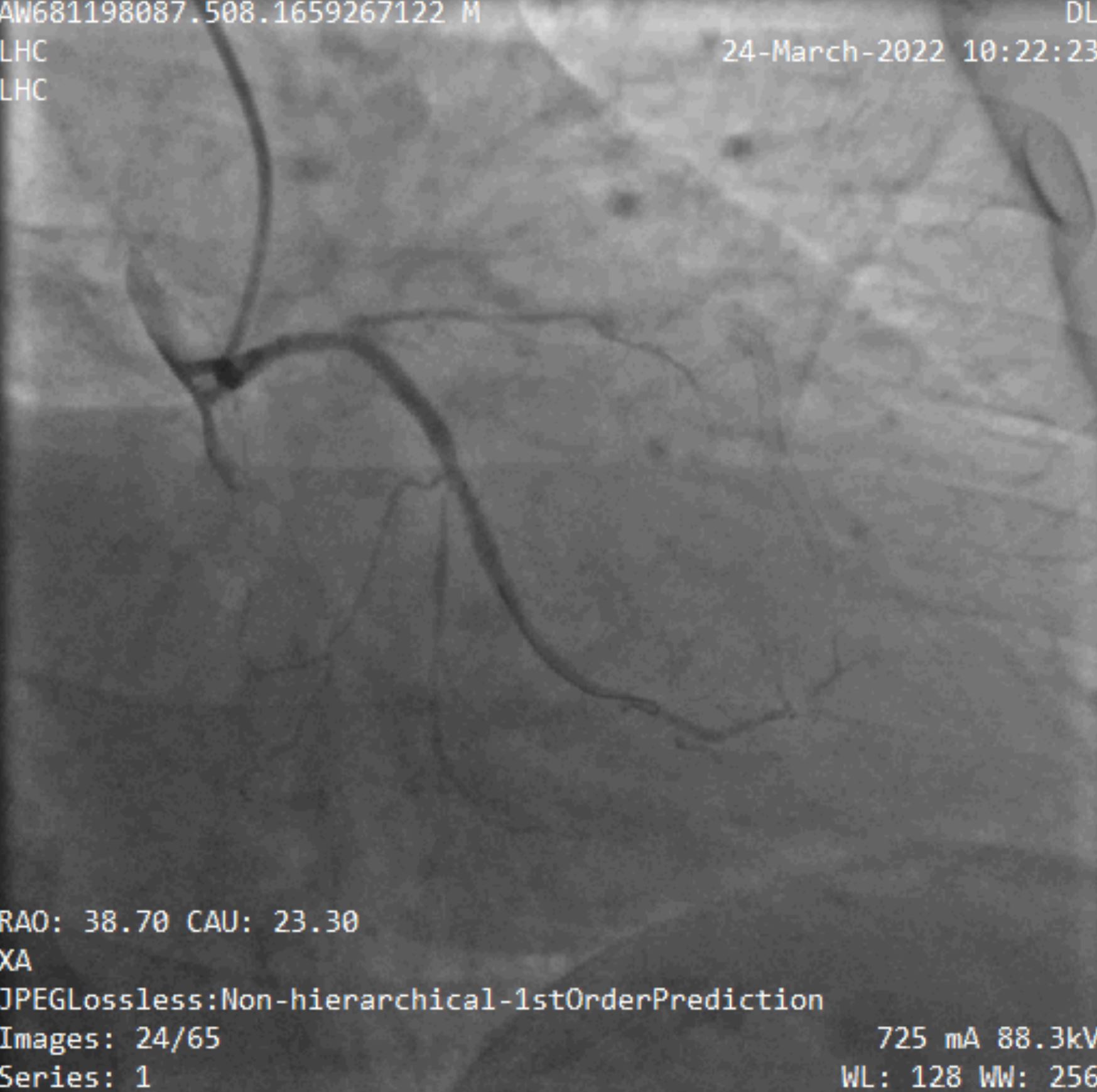 Video A.avi
Relevant Test Results Prior to Catheterization
Cardiac enzymes and high sensitivity troponin I were normal. Through left distal radial and using JL 4.0 6 Fr; XB 3.5 6 Fr for left system engagement and JR 4.0 6 Fr. For Right system engagement, coronary angiography revealed LM: Anomalous origin giving small diseased LAD and big LCX; Patent prior deployed stent in the LM-LCX.
Relevant Catheterization Findings
LAD:
Anomalous origin from the RCA ostium; atherosclerotic; patent prior deployed stent in its mid segment with 30% ISR. Its proximal segment had 30% stenosis (proximal to the prior deployed stent).
LCX:
Non dominant, patent prior deployed stent in the LCX from ostium LM to mid LCX segment with 30% ISR in the mid segment.
RCA:
Dominant vessel; atherosclerotic; had moderate luminal irregularities without significant stenosis. PDA had mid segment tight stenosis.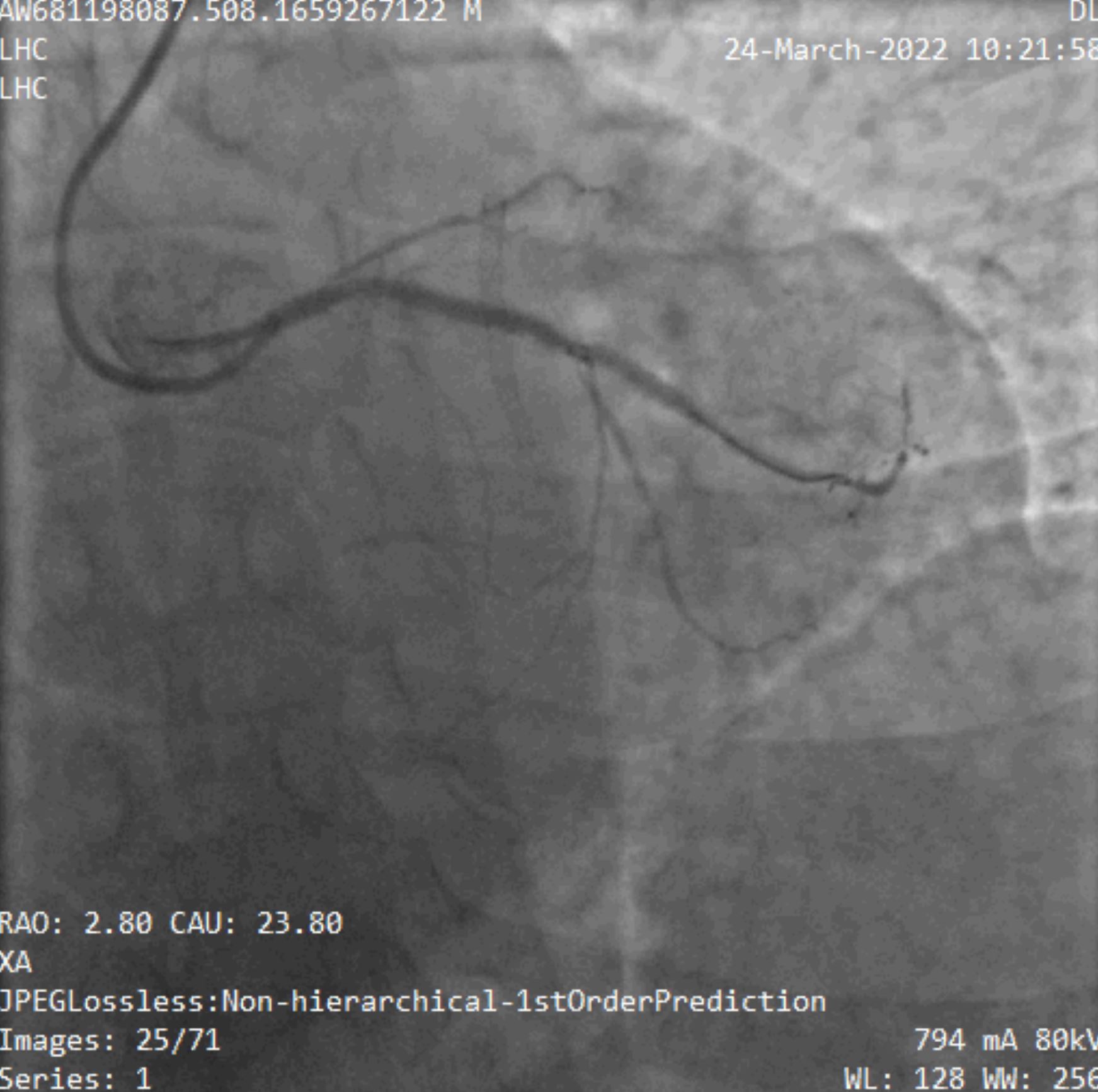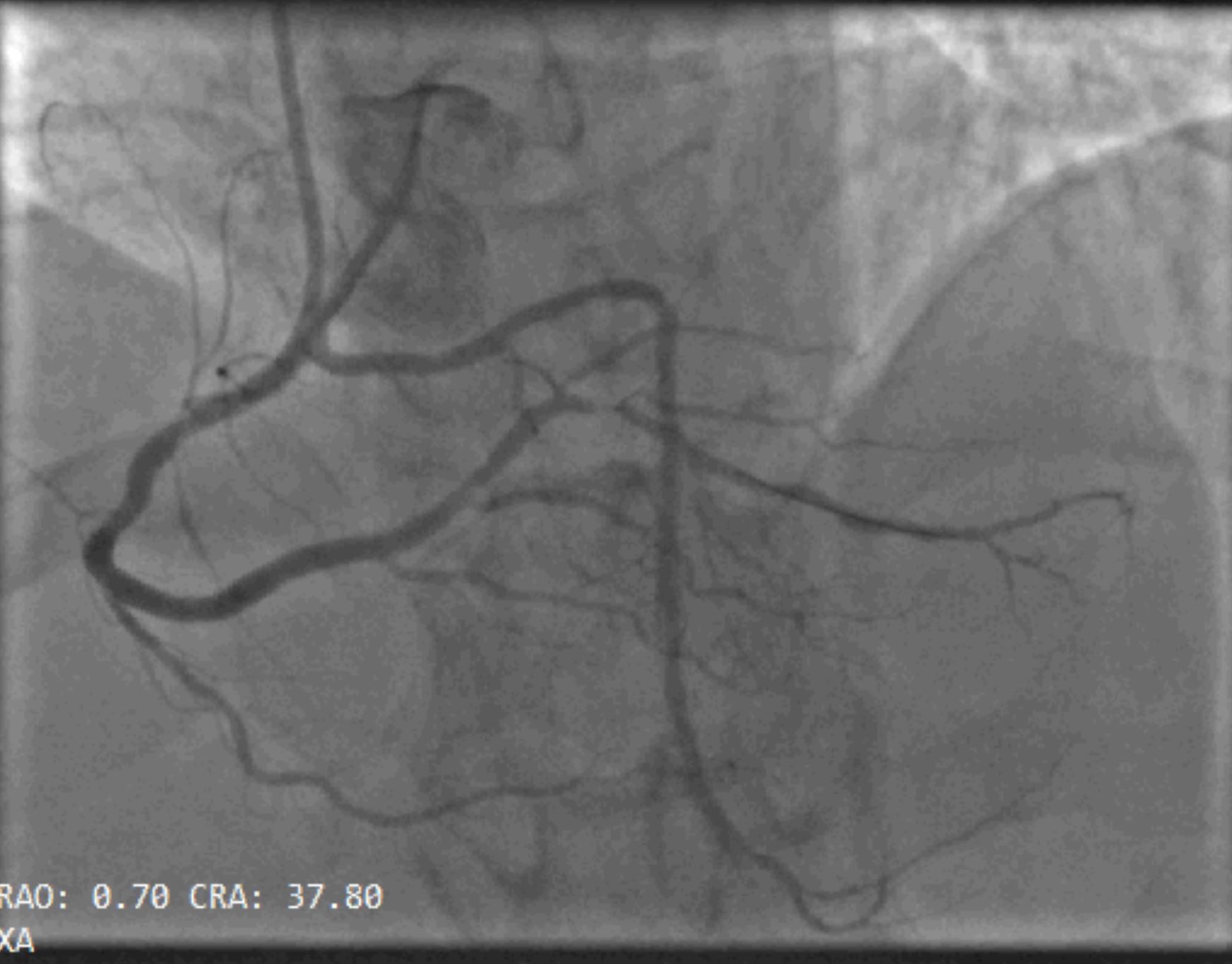 Video A.avi
Interventional Management
Procedural Step
PCI to PDA
The Right coronary artery was engaged by Judkin Right 4.0 six Fr. guiding catheter and a 0.014'' BMW guidewire was used to pass the lesion and advanced to distal PDA. The PDA lesion site was dilated using RX Xperience 2.0 X 20 mm balloon up to 12 ATM. then an Onyx Resolute 2.5 X 26 mm drug eluted stent was deployed up to 12 ATM and another 2.5 X 15 mm Ultimaster drug eluted stent was deployed proximal to the previous stent up to 12 ATM. TIMI III flow was achieved and no instant complication.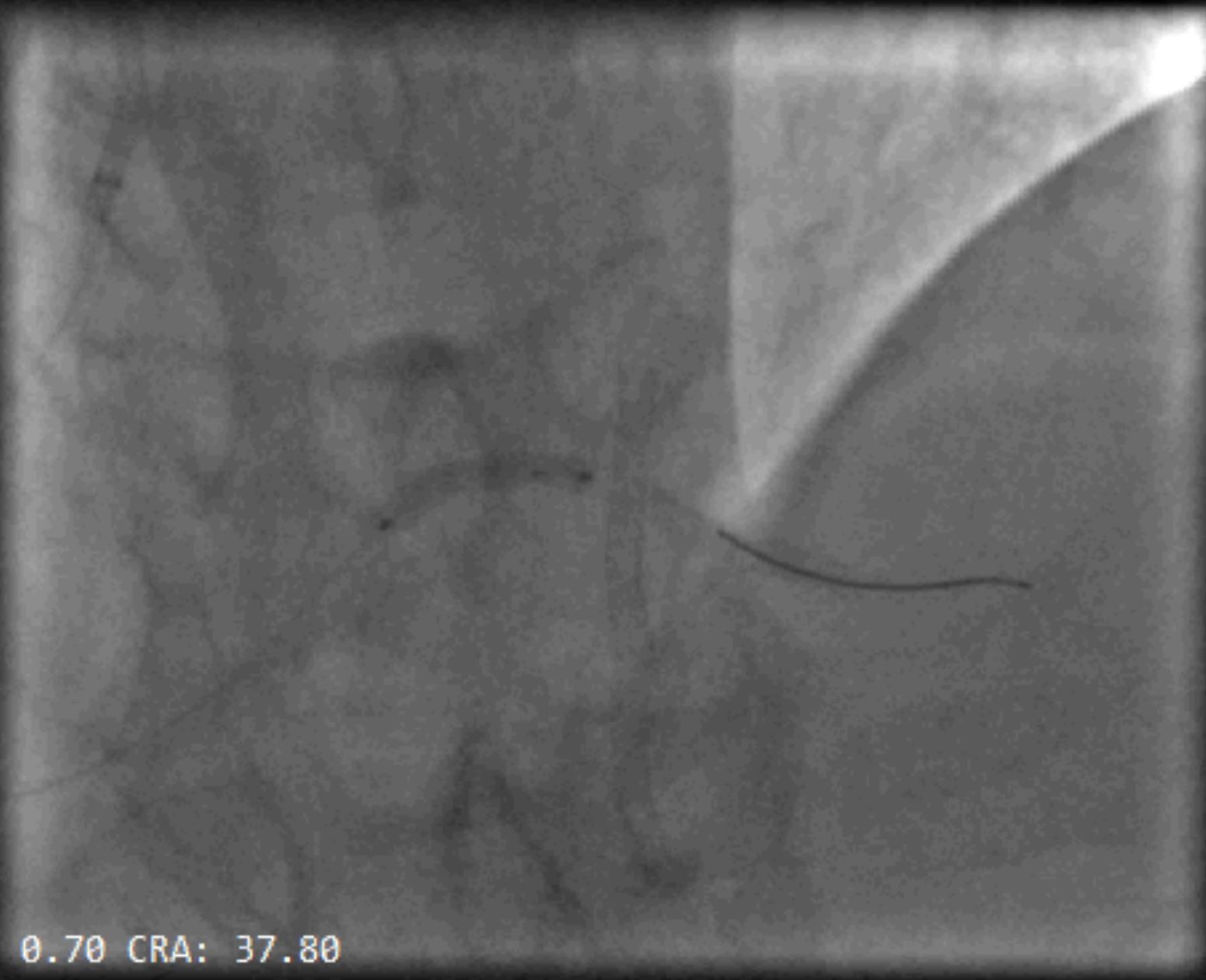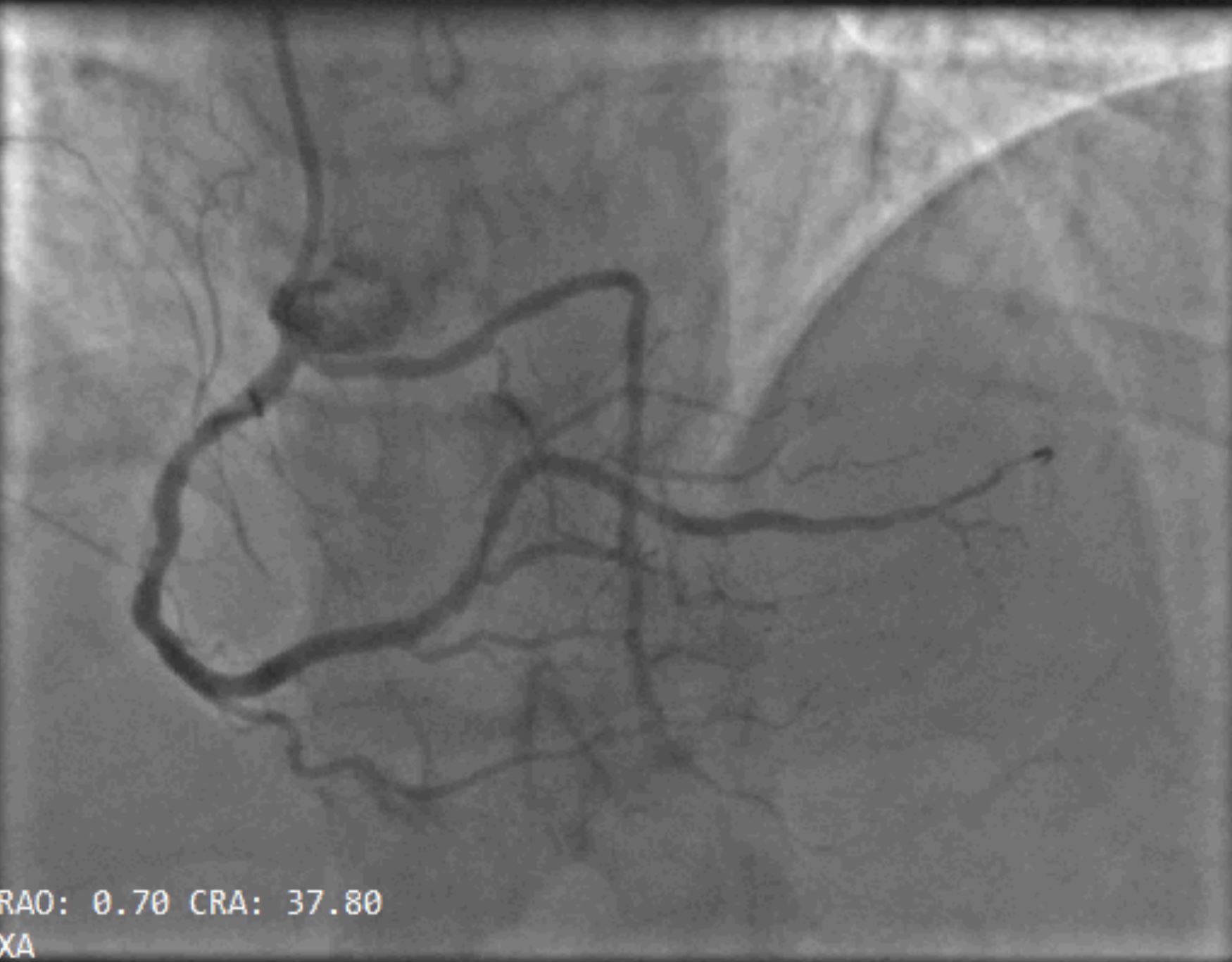 Video B.avi
Case Summary
Coronary artery anomalies are rare and observed in 0.5 – 2% of the general population
An anomalous origin of the LAD from the right sinus of Valsalva or the proximal RCA is very rare, found in 1.2 -6.1% of all coronary anomalies and considered potentially serious
PCI can be done safely and easily through distal radial artery in congenital anomalous origin of coronary arteries.